Valentines Day is right around the corner, just over a week away! Have you decided what to get your valentine? Me either! LOL! Our anniversary is on Valentines Day so I have to do more than the average wife! I have been searching for FREE or CHEAP ideas! Here are a few:
Canvas People is offering $55 off a Photo Canvas of any size! Pay shipping and handling! I got one for my In-Laws for Christmas and they LOVED it! Great quality!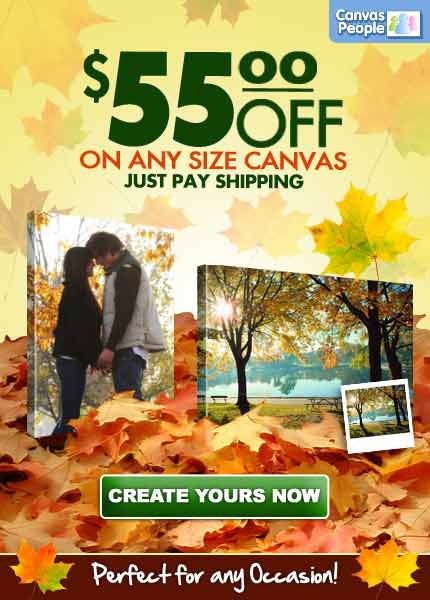 Of course, you can never go wrong with flowers:
One of my favorite places to shop online is Vistaprint! I have gotten the photo mug, calendar, photo magnets and so much more as gifts. Nothing is more special than having a romantic moment captured in a special place, not on a digital card or dusty photo album! Here are a few of my favs:
Do you have a coffee drinking Valentine? I DO! This is an awesome deal, get 4 boxes of Gevalia coffee, a coffee maker and a coffee mug for $19.95!!!! You do have to join but you can cancel almost immediately! Even if we didn't drink coffee I would get this just for the coffee maker! You can't find a coffee maker less than $40 anywhere! Especially stainless steal! WOW!
Going out to eat for Valentines Day? Why not go for half the price? I LOVE Restaurant.com because you can get gift certificates for great restaurants and get at least half off your meal! If you want to read more about Restaurant.com, I did a post about it and even did the math to help you understand the value in it! You can read that post
HERE.
Staying in? Looking for some unique recipe's to impress your Valentine? Check out Mr Food's Valentines Day treats and more great recipe's:
Looking for ways to get your kids involved with Valentines Day? Here are some great crafts to enjoy the day of LOVE with them!
Don't forget to send a special e-card to your Valentine! Make it an extra special day with a sweet e-card for FREE!